WURRE WURRE IS BACK !!!
a hilaric show
The comeback of the complete surrealism.
WURRE WURRE IS BACK
with the most spectacular highlights
from their different shows and brand new work.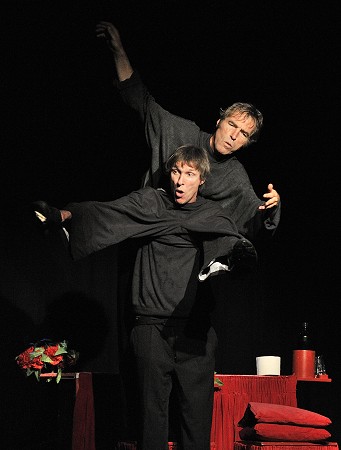 Your laughing muscles will be put to a test.. Book these international aces asap.
To be honest there is no story. Theme no sets can be expected. The leit motiv has vanished and both players triple more than once over the central basic line. No joke to mellow, no theme serious enough.
In spite of a good education, a neat complexion, a professional training and a flabbergasted face the gentlemen of Wurre Wurre take their responsibility and help you through the performance. They generate the maximum out of the void. They embarrass you and mock each other. They soften you up, They enchant you. They are divinely simple minded.

"In the Encyclopedia of Madness one page and a half has been dedicated to them. In good right. Without saying a word they make each and every public cry out with laughter while the characters seem to walk in another dimension."
De Standaard

"Wurre Wurre are a Belgian duo who over the past 15 years, have taken their odd brand of Flemish humor to even odder corners of the globe. Somewhere between Buster Keaton and the Marx Brothers, they're masters of the absurd. Their subject matter is simple but quirky, and their repertoire is made up of burlesque theatre, street theatre and ambulatory performances which they've been known to do in malls, busy streets and parking lots - anywhere where there's an audience in a need of a giggle."
The Times
> more reviews <
Directed by Paul Clark and Jos Houben
Playtime 1h 10 min.


Impresario :

xlp productions - www.xlp.be
Tel. 09/281.10.05 - Fax 09/281.10.96 -

around the world : Sadi TEMAL -
TÚl : +33 (0)1 41 58 58 78 / Port : +33 (0)6 09 64 90 90 / Fax : +33 (0)1 41 58 58 79
TEMAL Productions
31 rue Jean Jacques ROUSSEAU - 93100 Montreuil sous Bois
www.temalproductions.com


WURRE WURRE
door chmas