wurre
wurre
Tom Roos

News
- July 20 till 24 2015 in the "THEATRE ECOLE SAMOVAR" in Paris, stage:
Tom Roos, le clown minimaliste - www.lesamovar.net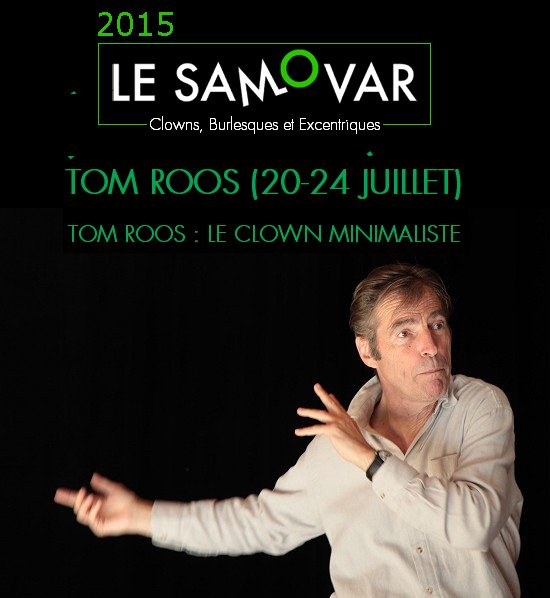 - "Don Quichot" in Krakow, Poland, July 11 & 12, 2015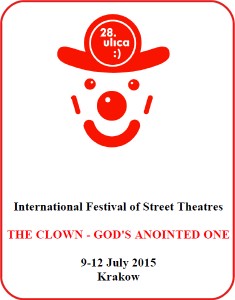 www.28ulica.pl - www.teatrkto.pl




- In May we played a series of try-outs of "Don Quichot" at the Bom Festival in Ghent.
This show is gonna make it.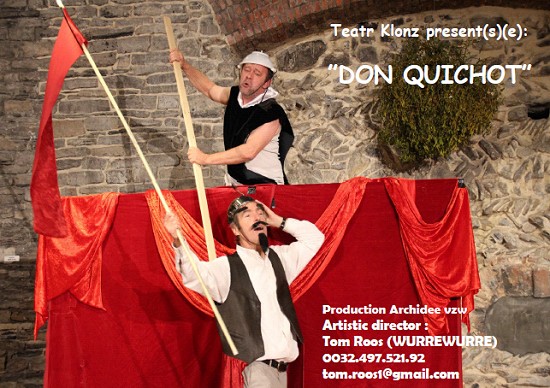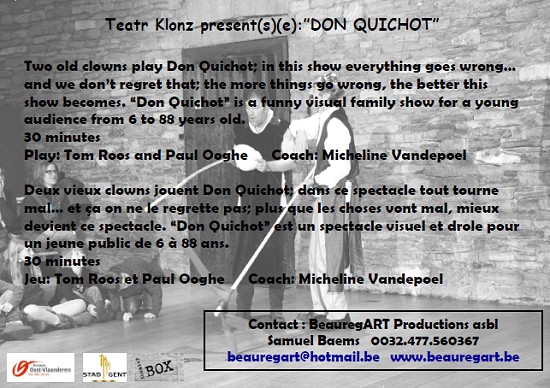 - Images of the Clown Workshop April 2015 taken at the Box Theatre, Ghent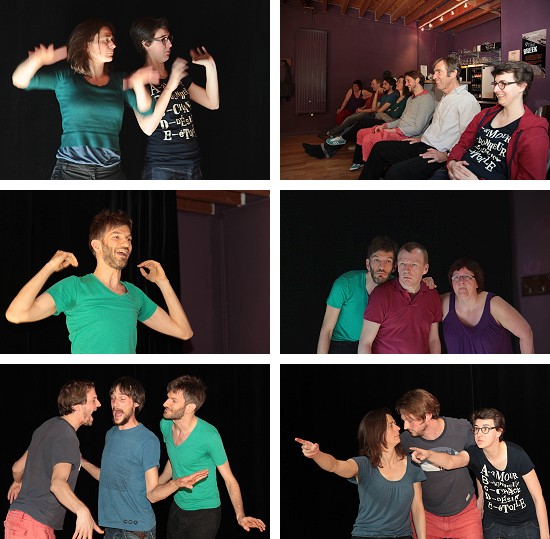 - Clown workshop Paris http://www.lesamovar.net/formation/stages/dcembre-2014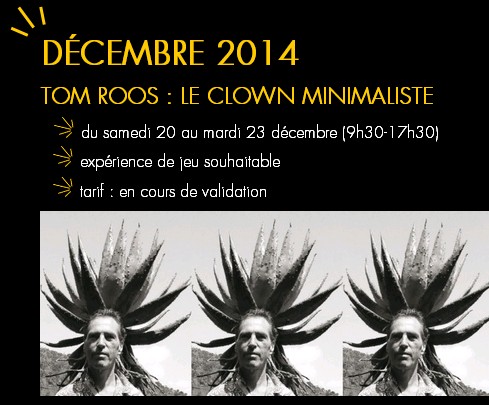 - Skills Transfer Project between Tom Roos (Belgium) & UNIMA SA
December 2013 - February 2014
Clown workshop for the Unima trainees.
Live drawings by Alowies-Art (www.alowies-art.be).




- Flowers of Silence, Bordeaux 2013
http://www.ulule.com/thumpmutariko/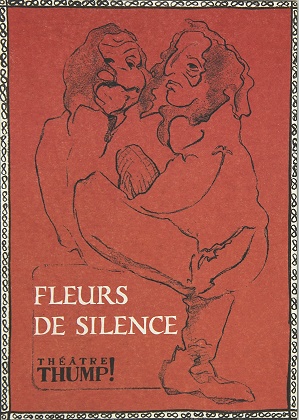 poster made by www.alowies-art.be





- Une Brique dans le Ventre / Cie En Chantier(S)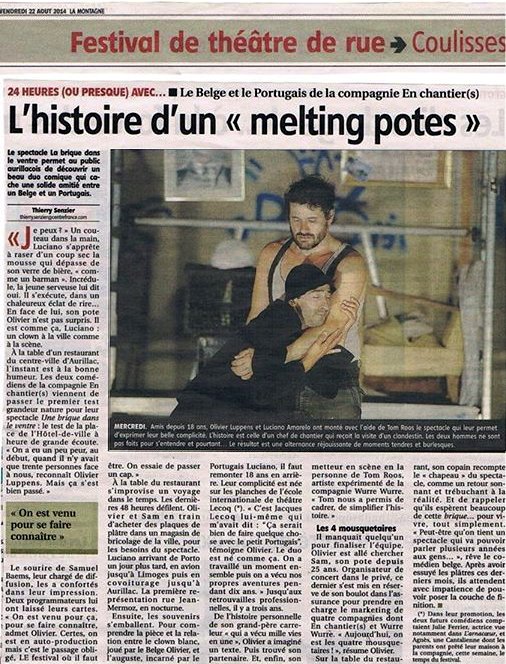 Festival Eclats, Aurillac 2014


- Kus, Circus Krak
http://www.circuskrak.be/kus/







Tom Roos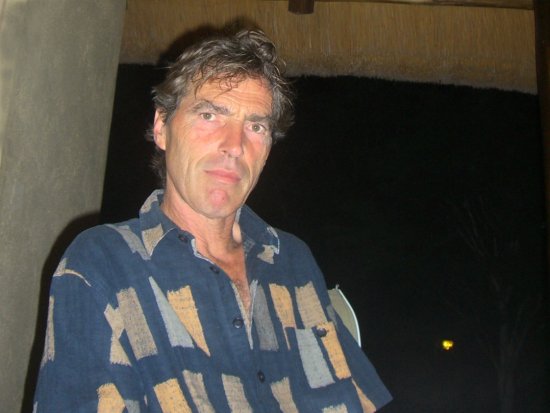 Clown, actor, storyteller, artistic director, facilitator.

Born in Strand (SA) in 1954 , grown up in Belgium.
Studies Archeology and Anthropology at the university of Ghent.
Two years of traveling in Europe, Asia and Africa.
Throws himself in theater, street theater and clowning as an autodidact.
Workshops clowning with Bolek Polivka (Czechia), Phillipe Gaulier (London), Said Lassaad (Brussels)
Trained in Qi kung over several years by Shen Hongsun.


1882 founds Wurre Wurre, with Philippe De Maertelaere and the dog Boost.
Wurre Wurre is fully engaged to ennoble uselessness.
Wurre Wurre develops a style where absurd and burlesque mix up with surrealism and poetry in a clear and simple visual language with a minimum of means and an overdose of humor.
Very soon they have an international reputation; Wurre wurre travels the world and the seven seas. They perform on the five continents.





In 1998 they are honored with the title "Cultural Ambassador of Flanders".
The same year they perform in Bangkok for the 72th anniversary of king Bhummibol from Thailand, as representants of the European Community.

Since 2000, Tom Roos, with the support of the Flemish Community, works on regular base in Soweto, with Ipelegeng Community Centre, in order to create high quality theatre and street theatre performances with township youngsters.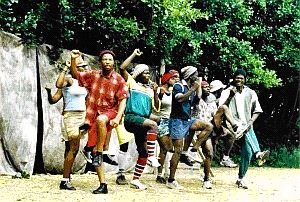 From 2000 to 2010 these performances; "Play", "Action", "Mupaku", "The Grass Turns Green", "Inyoni", "The Champions", "Murga Nathi" have toured successfully allover Europe in renowned festivals.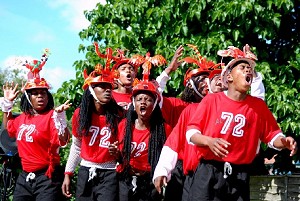 Apart from that he works internationally as director, comedian, storyteller, clown, and teacher.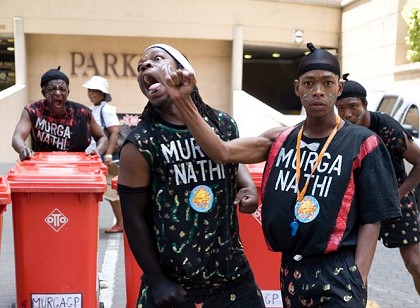 In 2011 Wurre Wurre, after 10 YEARS starts again to tour with a new Theater show: "BROEKVENT".

Tom Roos was organizing "Calling up Soweto" a musical project with Frederik Sioen and Flemish and South African musicians, with Kaya Mhlangu, Pops Mohammed and Stella Kumalo.

He created and played "Elephants do like Bananas", a storytelling for children.
"Waiting for Foto" with Pat Van Hemelrijk and Philippe De Maetelaere.
"Some Voices" with Bart Maris (trumpet) and Antonio Tavares (Dance).

He directed:
"Ça commence à bien le faire" with Les Cousins (France)




Aurillac 2002


"Don du Son" with Décor Sonore (France)
"Bond revisited" with Theater Smeedwerk (Netherlands)
"Jummoo" with Jummoo (Belgium) www.jummoo.be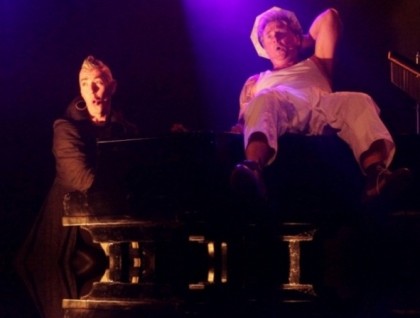 Jummoo



"Entresort" with Cirque de la lune (Belgium)
Embryonika with Thump Theater (France)
"Marriage Play" from Albee with Theater Deezillusie (Belgium)
"The first miracle of the child Jezus" from Dario Fo with Theater Deezillusie (Belgium)
"Kalasa" van Checirque.





"La Coincée" with Marie Teyssotte (France)
"Flowers of Silence with Thump Theater and Mutariko (France-South Africa)
"Kalasa" with Checirque (Belgium)
"Kus" with Circus Krak (Belgium)
"Une Brique dans le Ventre" with Cie En Chantiers (Belgium-Portugal)